A special support which enables easy positioning of the C-Eye® II and C-Eye® II PRO products in relation to the patient. Thanks to this, the patient can fully benefit from the possibility of communicating with their relatives and therapists, without changing their position.
A mobile stand allows the device to be positioned at any angle and at the right distance from the patient. Wheels increase the mobility of the entire set, and the especially designed base allows the device to be placed maximally close to the bed. The wheel lock option provides safety and stability.
Arm working range up-down:

720 mm – 1670 mm


mechanically adjusted mounting point for the arm

Arm lenght:

400 mm

steel structure

Additionally:

wheels with a lock-function

Dimensions:

width: 740 mm

depth: 810 mm

height: 1500 mm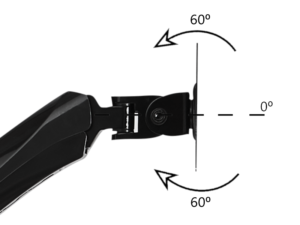 The remote controller is designed for remote task management, and it facilitates device operation during therapeutic sessions. It is supplied with the C-Eye® II PRO – a device designed for use in hospitals, clinical centres and doctors' offices. It is also possible to use the remote control while working with the C-Eye® II at home, and if you wish to extend the system by adding a remote-control module, you can contact your customer assistant at any time.
The case is adapted to transport C-Eye® II and C-Eye® II PRO devices. The transport case has been equipped with special pressings to protect the device from damage. Suitcase has wheels and a retractable handle that increases the comfort of carrying products.
Cover protecting the device against mechanical damage. Can be used with any device: C-Eye®, C-Eye® II PRO and mediContact®. Recommended especially for specialists to work in rehabilitation centers or hospitals, where the device is more often exposed to mechanical damage.
Accessory that significantly facilitates the assembly and disassembly of the device from the mobile stand.
SWITCH WITH USB INTERFACE
CURRENTLY UNAVAILABLE
Switch with USB interface – allows you to operate the C-Eye® system with a button (can be used in 2 modes: switch only (content scanning), eye tracker + switch).
TABLET PEN FOR ASSISTECH DEVICES
Each offered product can be operated using touch, and in order to maintain a high level of hygiene, a special tablet pen with a rubber cap is included in the set, allowing efficient operation of touchscreen devices.
The products can be cleaned with disinfectants for medical equipment. However, it is important to choose disinfectants appropriate for the type of surface to be cleaned and not to apply them directly onto the equipment, as the liquid could enter the device through the openings and damage it.